The three-time world champion feels Joachim Low's side are one of the biggest contenders for the tournament and added that Bayern Munich made a mistake in not signing Neymar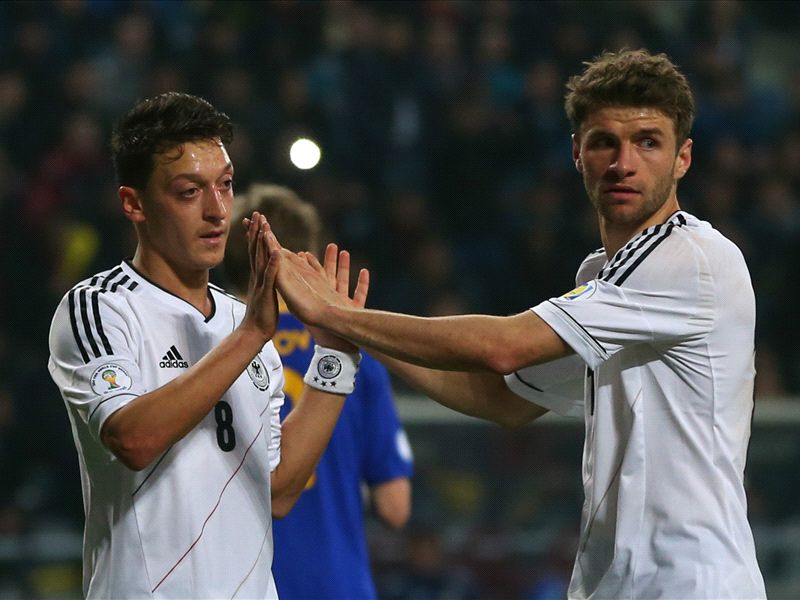 Brazil icon Pele says he fears "every player" in the Germany World Cup squad - particularly Thomas Muller and Mesut Ozil.
Germany have been drawn in Group G with Portugal, Ghana and USA and are seen as one of the favourites to win the tournament.
And Pele believes that, while he feels Brazil will claim a sixth world title on home soil, Joachim Low's men pose a genuine threat.
"Brazil are the favourites. We are playing at home and have a good team," he told
Bild.
"But I really respect Germany. They are the best team in Europa together with Spain, both are perfectly organised."
"I fear every German player with my heart. Mainly Thomas Muller and also Mesut Ozil. These players could be dangerous."
The three-time World Cup winner added he has spoken to Franz Beckenbauer about the strength of the Germany team, although he warned that the strongest side on paper does not always enjoy the greatest success.
"Franz told me that he is very satisfied with the German team. They have a lot of young top-talented players. The midfield is maybe as strong as ever.
"But great players don't automatically lead to success. In 1982, Brazil had the best team by far with stars like Zico, Socrates or Eder - but in the end Italy won the World Cup. The tournament is never predictable."
Pele was then asked if he feels Bayern Munich made a mistake in not signing Neymar at Pep Guardiola's request, to which he replied:
"Yes, if there is a chance to get Neymar you must take it. He improves every team in the world."
The 73-year-old also revealed he has been approached by several clubs to take over as coach but he has never been interested.
"I have been asked often if I want to become coach. Santos asked me every year since I stopped playing in 1974. Also Milan, Benfica and the Brazilian national team wanted me.
"But I never accepted these offers because the job would have made me crazy. I might have demanded too much of the players.
"As a coach you have to bear a lot. Coaches often suffer with the pressure. I always enjoyed sitting on the stands and not on the bench.
He joked: "I only would have thought twice if Bayern would have asked."
Read More »